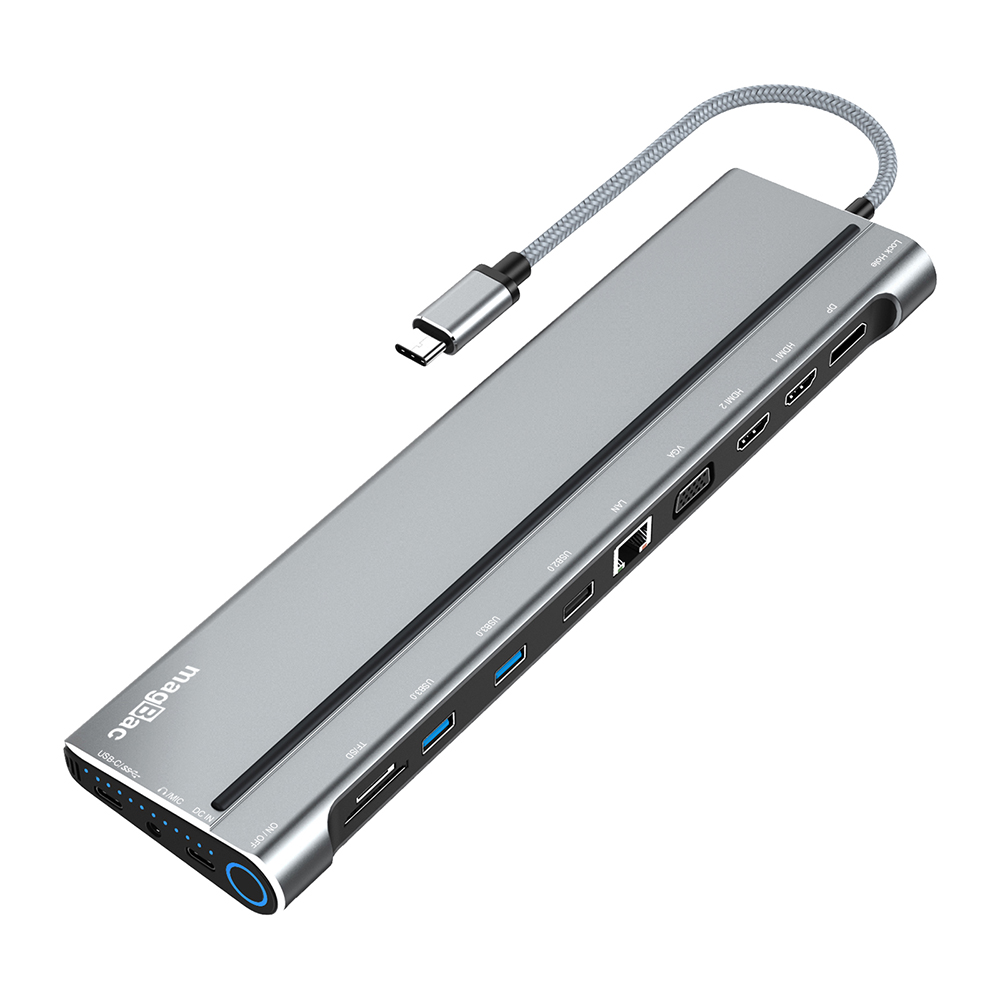 14-IN-1 USB C Docking Station (DS-P03S)
Interface Overview:
This USB C Docking Station connects to any computer which have a Thunderbolt 3/4 or full-featured USB C and provides up to 87W power delivery charging
2 * HDMI support resolution up to 4K@30Hz
1 * DisplayPort support resolution up to 4K@30Hz
1 * VGA support resolution up to 1920x1080P@60Hz
3 * USB A support 7.5W (5V@1.5A), data transmission speed can up to 5Gbps
1 * Audio port supports both microphone and headphone,can up to 48KHz/24bit
1 * USB C female port, one for charging Thunderbolt 3/4 and other USB-C devices, power rate 20V/4.3A (87W),
1 * USB C port support data transmission (USB 3.0 speed)
1 * RJ45 port support 10/100/1000Mbps bandwidth
1 * SD and Micro SD compliant with version 3.0, support to access memory
1 * security lock hole protect your laptop at public area
Power on/0ff button: save energy and enhance efficiency
Individual LED indicators will be bright to display each port working normally except Audio, VGA and Ethernet port
Triple Display Docking Station
This USB-C Dock support both SST & MST for Windows Laptop. Dual 4K HDMI resolution up to 3840*2160@30Hz (Backward compatibility with 1080p@60Hz). The protocol of Laptop's USB C interface should support DP1.2/1.4, the max TOTAL (Sum) resolution of 2/3 monitors and host laptop screen is 4K/30Hz.
Dual Monitor Dock Station
4K HDMI Output resolution up to 3840*2160@30Hz Max, DisplayPort supports Max 3840*2160@30Hz resolution, VAG 1920*1080@60Hz.
Please Noted: For Mac OS laptop, supports three external monitors only in mirror display mode, laptop screen and monitors display like A-B+B+B or A-A+A+A mode.
Compatible Devices (not a complete list):
Compatible with HP laptops: HP EliteBook 850 G6 / HP EliteBook 755 G5 / HP Probook X360 435 G7 / HP EliteBook 840 G5-G8 / HP Elitebook 845 G7 / HP Probook 450 G8 / HP EliteBook 850 G7-G8.
Compatible with Dell Laptops: Dell Latitude 7320 / Dell Latitude 5521 / Dell Latitude 5510 / Dell Latitude 7400 / Dell Latitude 5310 / Dell Latitude 5511 / Dell Latitude 7420 / Dell Latitude 7490 / Dell Latitude 5380 / Dell Latitude 5390, Dell XPS 13 / 17.
Compatible with Apple Laptops: MacBook Pro 2021 / 2020 / 2019 / 2018 / 2017, MacBook Air 2020 / 2019 / 2018 (Mirror Mode Only).
Compatible with Microsoft Laptop: Surface Pro7 / Surface Go 2 / Surface Pro 8 / Surface Laptop 4 / Surface Laptop 3 / Surface Book2.
Compatible with Huawei: Huawei MateBook X Pro 2021 / Huawei Matebook D15 / Huawei Matebook D16 / Honor Magicbook Pro / P40 Pro/P40 / P30 Pro / P30 / Mate20 Pro / Mate30 / Mate30Pro.
Compatible with Samsung: Galaxy Tab S8 / S7 / S5e / Galaxy Tab S4 / Samsung Galaxy S10+ / S10 / S9+ / S9 / S8+ / S8 Plus.
Not compatible list (not a complete list):
Not compatible with Dell Precision / Dell Inspiron 15 3593 / Dell Inspiron 15 7000 (7573).
Not compatible with Surface Go / Surface Pro / Surface Pro 6 / Surface Book 3Not compatible with Honor MagicBook 14/Huawei Matebook D14.
Not compatible with Lenovo Ideapad Series / ASUS VivoBook / HP Zbook / HP Pavillion / HP EliteBook / Acer Series and other old version USB-C laptops.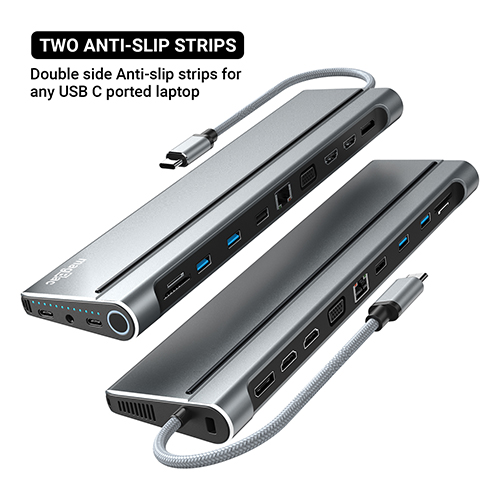 Universal USB C Dongle As A Laptop Stand

Double Anti-slip strips design for table top, can also be used as a laptop stand;
Whether the USB C port is on the left or right of the laptop, it is convenient to connect.
Safety lock hole design ensures safety.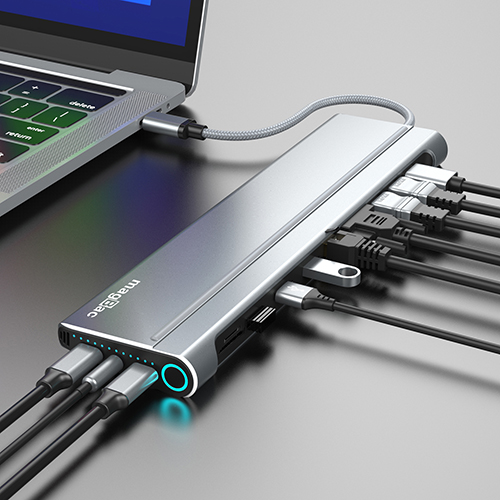 14 in 1 Docking Station with ON/OFF Button

This USB C HUB has a Power ON/OFF button which supports to save power consumption and ensure a stable operation.
14 port can use simultaneously.