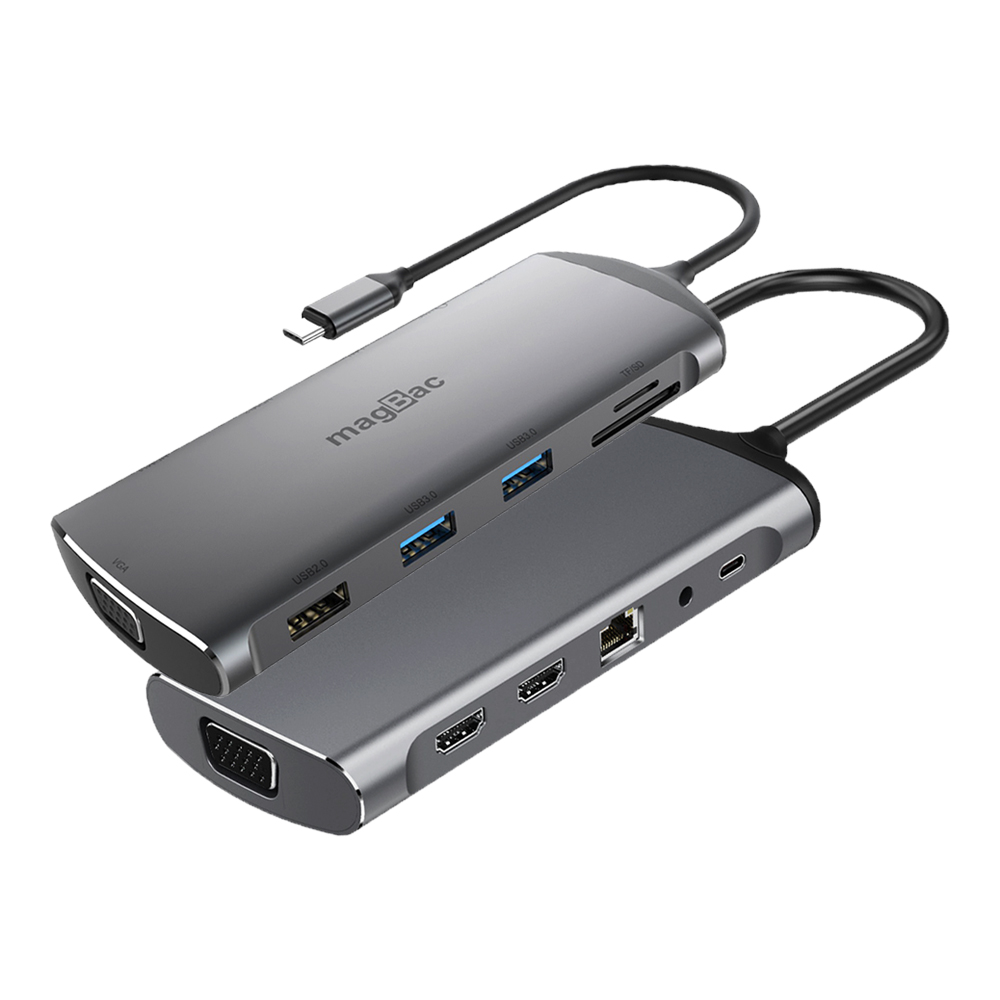 Dual Monitor Laptop Docking Station USB C HUB For Macbook Pro Hub USB C HDMI VGA RJ45 PC Accessories P01s Type C Hub For Lenovo
Interface Overview:
1 * USB 3.1 Type-C connector cable (Built-in)
2 * USB 3.0 Type-A port 5Gbps
1 * USB 2.0 port
2 * HDMI output port 4K/30Hz
1 * VGA output port 1080P/60Hz
1 * Rj45 Gigabit 10/100/1000Mbps
1 * SD card slot
1 * TF card slot
1 * 3.5mm Jack hole for Audio/Mic
1 * PD charge port (it could support 100W adapter) / support data transfer
MagBac USB C Hub with Dual HDMI Ports to Extend Your Laptop (Mac or Windows OS)——Triple Display
Dual HD 4K (HDMI) Extended Displays (4K@30Hz total) Use any two ports of HDMI or VGA.
Please Noted: only Mirror Mode workable for MacOS due to it's system limitation.
For dual monitors extend mode display, please make sure your host laptop system supports displayport video output function.
Portable for meeting and business travel
For Windows OS laptop:
Due to the limitation of the GPU function of the host laptop, any combination of output via HDMI / VGA interface can only support a single monitor with a resolution of up to 4K/30Hz or each of two monitor combinations up to 2K/60Hz (VGA only supports 1080P resolution instead of 4K) resolution; if two external monitors are connected, the information display mode of all display screens has three ways, for example A-A+A or A-B+B or A-B+C (A is the host laptop computer, B and C are external display devices)
The exact resolution for any two port output combination like:
HDMI + HDMI: Resolution total up to 4K@30Hz or 2K@60Hz for each monitor
HDMI + VGA: Resolution total up to 4K@30Hz or 2K@60Hz for each monitor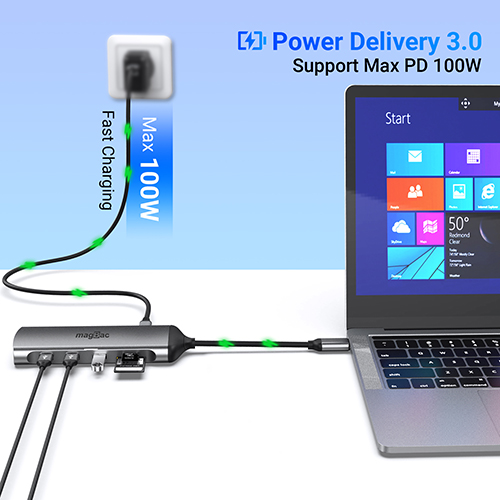 PD 3.0 supports MAX 100W power delivery

USB C port can provide power to your laptop and dock.
Not included an adapter, please buy an at lease 45W adapter to connect if needed.
Super Speed Internet

With the built-in Gigabit Ethernet port, you will enjoy the flying speed of the video watching or data transferring.
Better & strong performance experience comparing with the WI-FI.